If you think about a diver watch, the first model that springs to mind would definitely be the Rolex Submariner. However, this article is not only about this model. I would also like to show you my two favorite alternatives – The Tudor Black Bay 58 and Oris Divers Sixty-Five.
These three watches have something in common, being inspired by models from the 1950s and 1960s. One of the interesting preferences is their case size, which is in the range of 39 to 40mm, considered as the ideal watch size. This size makes it a great everyday watch, looking good on both small wrists, as well as on larger ones. The versatility of this case size can also be proven by other iconic models, such as Omega Speedmaster from 1957 or Audemars Piguet's Royal Oak from 1972.
Another benefit of this case size is its versatility when it comes to combining it with various styles and outfits. You don't need to worry that a watch of this size would look inappropriate with a suit.
Rolex Submariner
I think that we can all agree that there can't be a watch brand less in need of an introduction than Rolex. It's a brand that everybody has heard of and automatically brings to mind connections with luxury and quality. The success of this brand should be directly credited to the founder and president Hans Wilsdorf, a genius business-man and even better marketeer. He was open-minded to new ideas, especially from his employees. René-Paul Jeanneret, an experienced member of the team and a passionate diver came up with the idea of developing a watch that would be an elegant timepiece for everyday use, but also suitable for use in the water when diving.
Rolex came up with the idea of a water-resistant watch in the early 1930s, however, this watch did not get enough interest at that time – probably due to its huge case diameter.
The look of the Submariner watch is dated back to 1953. In September 1953, Rolex announced that they were able to produce a diver watch and that the professional diver, Auguste Piccard, would go onto dive 3131 meters with his Bathyscaphe deep-diving submarine while wearing this watch. When the submarine rose out of the water, the Rolex watch was still working. Next year, visitors of the Base fair were happily surprised to see a wristwatch featuring a matt black dial and a rotating bezel with markers about 5 mins apart. A small sign which said 'Submariner – the diver's friend' was positioned close by. In other words, Rolex created a professional diver watch with an automatic movement and with water-resistance of 100 meters thanks to the screw-down system called Twinlock.
One of the main reasons why the Rolex Submariner is a classic and iconic watch today is most likely due to the avoidance of any type of experimentation with the design of the watch.
Tudor Black Bay 58
Tudor watches were created in 1926, Hans Wilsdorf was enthusiastic to make it to be a more accessible alternative to Rolex, and yet it would keep the standard of quality for which Rolex is famous.
Tudor is probably most known for its diver watches. Both for modern models, but also for their vintage pieces. Tudor launched its first diver watch in 1954, the Oyster Prince Submariner, with its waterproof up to 100 meters. In 1958, this was increased to 200 meters. By these times, the French Navy (Marine Nationale) played a key role in the creation of a Tudor's diver watch, as they became research partners "in the field", giving detailed feedback on what could be improved. In 1957, Tudor began producing an Oyster Prince Submariner for the US Navy.
In 2009, a major relaunch took place of the Tudor brand. For many years, the Tudor brand had not been strong enough as a brand, despite its long and rich history and a reputation for making high quality and reliable watches. The release of the Tudor's Heritage Black Bay collection in 2012 has put the brand back on track and on the radar of many watch enthusiasts.
In terms of design, vintage inspiration has been one of the major trends in watchmaking within the last 10 years. Tudor, with its Heritage collection, clearly followed this trend better than most brands around. The Black Bay 58 is a nice mix of vintage elements in a modern package. The interesting part is that it doesn't refer to one special watch, but in fact, it uses parts and iconic features of several watches, such as the red triangle, the gilt dial, the big crown, and the most iconic feature – the Snowflake hour hand. Being said, this model with a strong movement (since 2016) has a great price/quality ratio and even better construction.
Oris Divers Sixty-Five Bronze Bezel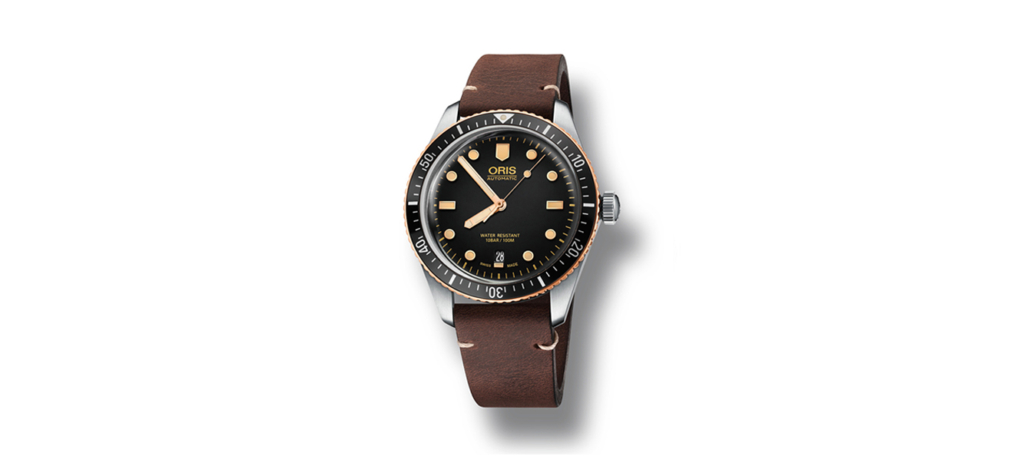 Of the many watch brands operating in the entry-level range, very few have the same history as Oris. Oris was founded in 1904 by Paul Cattin and Georges Christian. Naming the company after a brook at the Swiss town of Hölstein, they bought the Lohner & Co watch factory which had recently closed. In less than 10 years, they became the largest employer in Hölstein. By 1929, they already had a total of six factories and by at the end of the 1960s, Oris has become one of the largest watch companies in the world, producing around 1.2 million timepieces a year.
For this model, they went into their archives and recreated a dive watch from the 1960s, while keeping 21st-century watchmaking techniques. This is probably why the Divers Sixty-Five watches are one of Oris's most recognizable designs. It is another great example of a watch company making a heritage piece the right way.
The Oris Divers Sixty-Five Bronze Bezel debuted at Baselworld 2018 and with a bronze bezel, rose gold accents on the indices and hands, this model offers a very subtle take on the "steel and gold" concept. Bronze has been a hit for Oris over the past few years, so it's understandable why they included this feature on this vintage-inspired watch as well.
It is needed to be said that the Oris Divers Sixty-Five is available in both 36 and 40mm versions. Though I went for the bigger one, it still feels smaller than other watches with the same case diameter. The 36mm contains its date at 3 o'clock while the 40mm shows the date in an almost invisible window at 6 o'clock.
---
So which one of these watches should you look for? To be honest, it is really up to you. You are the only one who needs to enjoy it in the end. If you're looking for a really good quality diver watch for a good price, or if you're not sure Rolex is the right brand for you, go for the Tudor's Black Bay 58.
If you're on a budget, but yet you want a good diver watch, you should definitely opt for the Oris watch.
In case you are a Rolex fan, then you know which way you should go. And don't take this brand and their watches as an opportunity to show-off. Rolex is a well respected Swiss luxury manufacturer of mechanical watches. It's a brand that contributed to a large part of watchmaking history.
That's all for now, but I am sure you'll read more about other diver watches on here, sooner or later.
---