When it comes to white minimalist sneakers, the first brand which probably comes to mind is Common Projects. Their 'Achilles' sneakers are by far the most popular on the internet and it's a go-to option for a lot of people. And let's be honest, there is a good reason for that. Their clean and minimalistic design makes them immensely versatile. It goes well with everything. But are these Common Projects worth its price tag (€340 at Mr. Porter)? While it's definitely a good, quality product, you have to accept that it is seen as a luxury product and thus, you're paying for that.
Fortunately, there are many alternatives these days, made in the same (or even better) quality and what could be even more interesting to you all – they are in a lower price range.
Common Projects' 'Original Achilles'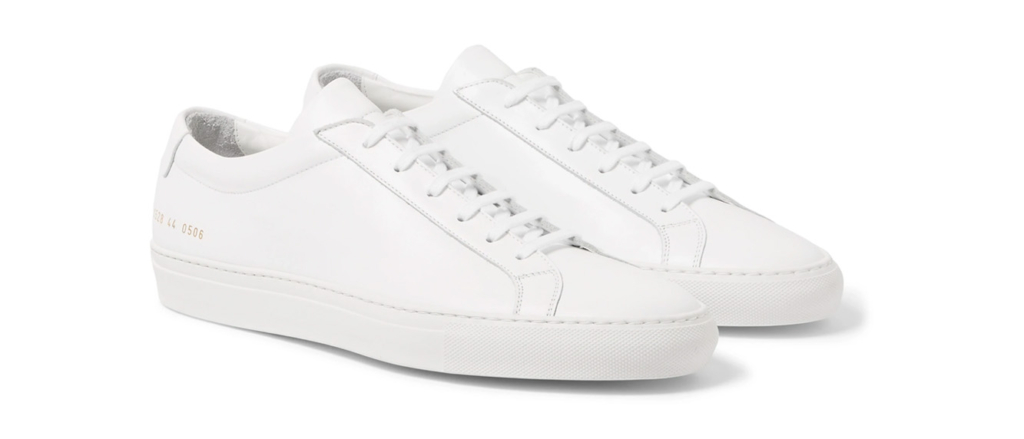 Common Projects was founded in 2004 by art director Prathan Poopat and creative consultant Flavio Girolami (who met during NY fashion weeks). The company name originated when these two friends began working on a number of ventures together – 'common projects' – one of which involved creating the perfect sneaker. But what started as a 'just-for-fun' project ended up becoming the benchmark for the luxury footwear market.
When the model Achilles was presented back in 2004, it was an instant hit. With its minimalist and clean design, they filled the gap between sports sneakers and dress shoes. Simply put, they became a new classic.
Common project shoes are made in Italy with hand-selected calfskin leather. There is no branding visible on the shoe, just ten digits, divided into three sets, stamped in gold on the outer heel of each shoe. Each set corresponds to a style number, European size, and color.
---
KOIO triple white

price: €222
A company created by two passionate sneakerheads who brought European sensibility and quality to American ambition. When you compare the quality of Common Projects and Koio's, you're getting nearly the same thing.
Koio's shoes are also manufactured in the Marche region (an eastern Italian region, which sits between the Apennine Mountains and the Adriatic Sea) and made with high-quality Italian leather. Same as CP Achilles, they are outfitted with Margom soles. The toe box and eyelets are almost identical when compared with CP.
The soft leather lining (which is presented in CP and most of these alternatives) means you can choose to wear socks or go without.
---
Uniform Standard
price: €159
Uniform Standard is a relatively new British footwear brand. Their vision is to produce sneakers with a clear approach to sustainability and a strong focus on social and environmental responsibility. Shoes are constructed in Portugal from high quality Italian full-grain calf leather with a recycled rubber sole. And they are built to last. For its price, you'll get really great shoes.
---
Oliver Cabell

price: €170
Oliver Cabell is another footwear brand, founded in 2014 in England, yet the team has relocated later to the US. Their 'Low 1' could be described as an affordable Common Projects Achilles homage. Their shoe design is pretty similar to the CP Achilles. In fact, it has even the gold lettering on an otherwise unmarked upper. Their reinvented shoes are nowadays made in Italy (in the Marche region) from full-grain calf leather and with the outsole from Margom.
---
Greats
price: €150
A self-claimed first Brooklyn's sneaker brand was founded back in 2014. The rumors on the internet say that Greats uses the same factory as Common Projects. While it's not easy to confirm this, it's known they're from the same region and feature the same Margom sole. With a similar minimalist style as the CP Achilles, Greats offers Italian-made sneakers with a lot of versatility and less brand recognition.
What is even better than they are offering sizes up to the EU 48. Thank me later, Bigfoot.
---
Artisian-lab

(robin's choice!)
price: €140
Artisian-lab believes that quality should be obtainable, not just something to dream of. And they deliver just that – a luxury shoe at a price that's affordable. The brand also produces in Italy using the finest Italian leather. What I like about this brand is their monthly batches – new designs and colorways launched on a monthly basis. Production is limited, so it's better to pre-order their products, but by that, you'll save up some money too. Plus, their sizes go up to the EU size 47 – pretty, pretty good!
As most of these listed alternatives, also the Artisan Lab sneakers have a slightly wider toe box which I don't see as being an issue at all.
---
And now something different and more than worthy to include.
Humans Are Vain
price: €115
Humans Are Vain is a Premium Swedish Vegan brand that fuses the latest sustainable materials and innovative methods with timeless contemporary design. Their sustainable and recycled materials are what defines the brand. Shoes are made from such materials as pineapple leaves and recycled plastic ocean trash can be found throughout their collection.
Following their philosophy, all products can be fully recycled at the end of their life – even used sneakers can be turned into a new sole.
Their sizing ends up at the EU 45, which unfortunately in this case is not suitable for me.
---
Other sneaker brands that are worth a mention:
---